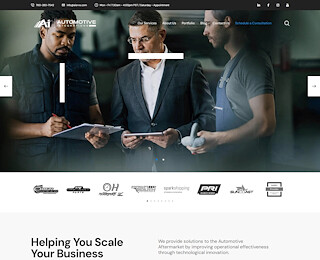 Best Auto Parts Ecommerce Solution for 2023 and Beyond
The ecommerce landscape has evolved into a fiercely competitive arena where businesses strive to offer not just products, but comprehensive solutions. Automotive Integrations is leading this change in the automotive industry with its game-changing Auto Parts Ecommerce Solution. Our software package isn't just an online catalog but a complete platform for managing your auto parts business from the ground up. Whether it's inventory management, online payment processing, or customer engagement, our ecommerce solution delivers all of these and more in a single, easy-to-use interface.
Understanding the Ecommerce Challenge in the Auto Parts Industry
The auto parts industry is a multifaceted market that presents its own unique challenges, including catalog management, tracking millions of parts, and real-time inventory control. Our Auto Parts Ecommerce Solution is specially designed to address these complexities. We have inbuilt features that allow you to manage your catalog with SKU accuracy, ensuring that every nut, bolt, and washer is accounted for. This level of granularity helps you to avoid the common pitfalls like overselling and stockouts, thereby keeping your customers satisfied and coming back for more.
Precision in Inventory Management
One of the major concerns in any ecommerce business, and especially in auto parts, is inventory management. Managing multiple product lines, varying demands, and seasonal shifts can be taxing. Our Auto Parts Ecommerce Solution features an intelligent inventory management system that allows you to not only keep track of your inventory but also predict trends. It does so by analyzing past sales data, seasonal demands, and current inventory levels to give you actionable insights. These insights assist you in making informed decisions about restocking, thus helping you to optimize your investment and warehouse space.
Order Processing and Fulfillment
Processing orders can be a cumbersome task, requiring attention to detail, especially in the auto parts industry where orders can be highly specific. Our solution streamlines the entire process from order receipt to fulfillment. An intuitive dashboard provides a comprehensive view of all orders, pending, completed, or in transit. This real-time tracking capability offers your customers transparency, thereby boosting their trust and confidence in your brand.
Payment Gateway Integration
For an ecommerce business to thrive, it needs to offer its customers an array of payment options that are both secure and convenient. Our Auto Parts Ecommerce Solution incorporates an advanced payment gateway integration feature that supports multiple payment options including credit cards, PayPal, and even cryptocurrencies. Furthermore, the platform complies with all the industry-standard security protocols, thereby ensuring that your customers' sensitive information remains confidential and secure.
Highly Customizable and Scalable
We understand that every auto parts business has its own unique requirements and challenges. Our ecommerce solution is built with flexibility in mind. Whether you're a small local store or a large multinational chain, our software can be tailored to suit your specific needs. Moreover, as your business grows, the platform can be easily scaled up to handle increased volumes without requiring major changes or overhauls, making it a future-proof solution.
Streamlined Customer Experience
The future of ecommerce lies in providing personalized shopping experiences. Our Auto Parts Ecommerce Solution offers several features like personalized recommendations, smart search options, and a user-friendly interface that make shopping not just convenient but enjoyable for your customers. By enhancing user experience, you're not just ensuring a sale, but creating a customer for life.
Rich Analytics and Reporting
Data-driven decision-making is crucial in today's competitive market landscape. Our ecommerce solution offers a rich analytics dashboard that provides you with deep insights into your business performance. From sales figures and inventory levels to customer behavior and website engagement metrics, all the critical data points are presented in an easily digestible format. This enables you to make well-informed decisions quickly.
Robust SEO and Marketing Tools
No ecommerce platform can be deemed complete without robust marketing tools. Our Auto Parts Ecommerce Solution includes SEO tools that ensure your products rank well on search engines. Furthermore, it offers integrated social media features and an inbuilt email marketing platform, thus allowing you to run comprehensive digital marketing campaigns directly from your dashboard.
Integrated After-sales Service
In the auto parts industry, after-sales service is often as important as the sale itself. Our ecommerce solution provides you with the tools to manage returns, handle customer inquiries, and offer warranty services efficiently. Integrated chatbots can handle routine queries, freeing your customer service staff to focus on more complex issues, thereby improving overall efficiency and customer satisfaction.
Global Expansion Capabilities
With the world becoming more interconnected, the natural progression for any successful business is to go global. Our Auto Parts Ecommerce Solution is equipped with multi-language support and multi-currency payment options. This ensures that as your business expands across borders, your ecommerce platform can scale with you, seamlessly integrating with local payment gateways and logistics services.
We strongly encourage you to explore the rich repository of free resources on our website. Our guides, webinars, and customer testimonials are designed to give you a deeper understanding of how our Auto Parts Ecommerce Solution can transform your business. Should you have any questions or need further clarification, we are always here to assist you.