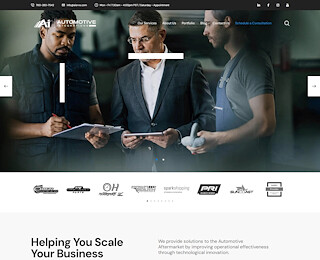 Top Rated CRM for Automotive Dealers
Navigating the rapidly evolving landscape of the automotive industry can be a complex task. The key to staying ahead of the competition lies in understanding your customers at a granular level and interacting with them in the most effective ways. At Automotive Integrations, we pride ourselves on offering an array of sophisticated solutions designed to optimize your business processes, with a focus on customer relationship management (CRM).
Our services range from eCommerce platforms to inventory management systems, but one of our standout offerings is our top-rated CRM for Automotive. This platform isn't just a database; it's a dynamic tool that manages, analyzes, and leverages customer data in real-time, offering unparalleled benefits to dealerships. Let's delve into what makes our CRM the best choice for automotive dealers.
Understanding CRM for Automotive
The first step to appreciating the value of our CRM tool is understanding what CRM for Automotive entails. In essence, CRM software for the automotive sector is designed to manage and analyze customer interactions throughout the lifecycle of your relationship with them. It helps you track leads, convert them into customers, and retain them by understanding their needs, preferences, and behavior. Unlike generic CRM systems, a specialized CRM for Automotive comes equipped with features tailor-made to handle the nuances and specific challenges of the automotive industry.
Why Every Dealership Needs a CRM
If you're still running your dealership without a dedicated CRM, you're likely missing out on significant growth opportunities. A CRM system serves as the backbone of your sales and marketing efforts. It provides valuable insights into customer behavior, enables targeted marketing, streamlines inventory management, and helps deliver a more personalized customer experience. In short, it's not just a tool for storing customer data; it's an integrated system that impacts every aspect of your business operations.
The Unmatched Features of Our CRM
What sets Automotive Integrations' CRM for Automotive apart from other offerings are its feature-rich capabilities designed to provide a 360-degree view of each customer. Our CRM system is equipped with advanced algorithms that analyze customer data in real-time, thereby allowing you to anticipate needs, identify buying signals, and personalize interactions. From lead management and analytics to customer segmentation and targeted campaigns, our CRM offers a plethora of functionalities that are as innovative as they are effective.
The User-Friendly Interface
Ease of use is often an overlooked feature when evaluating CRM systems. A complicated, clunky interface will deter employees from fully utilizing the tool, thereby diminishing its efficacy. Our CRM platform has been designed with user experience in mind. It offers an intuitive, easy-to-navigate interface that requires minimal training, ensuring that your team can get up and running in no time.
Cost vs. ROI: Making the Smart Investment
Investing in a robust CRM system is not an expense; it's an investment with a high return potential. When you consider the efficiency gains, the increase in sales from targeted campaigns, and the value of improved customer loyalty, it becomes clear that the ROI of a quality CRM far outweighs the initial costs. Our platform, with its customizable features and scalability, offers exceptional value for your investment, promising a tangible and swift return.
Data Security and Compliance
In an age where data breaches make headlines daily, the security of your customer data is a paramount concern. Automotive Integrations' CRM for Automotive is built on a secure, cloud-based architecture that adheres to the highest industry standards for data encryption and protection. Moreover, our platform is designed to ensure compliance with regulations such as GDPR, providing you an additional layer of assurance.
The Mobility Advantage
In today's fast-paced world, having access to crucial customer data on the go is a necessity. Our CRM system offers robust mobile capabilities, allowing your sales team to access real-time customer information, manage leads, and execute tasks directly from their smartphones or tablets. This feature ensures that your team remains productive even when they're away from their desks.
Scalability: A CRM That Grows With You
Scalability is a critical factor when choosing a CRM system. As your business grows, your CRM should be able to grow with you. Automotive Integrations offers a highly scalable CRM platform, with modular features that can be added or removed based on your evolving needs. This flexibility ensures that you're not locked into a system that becomes obsolete as your business expands.
Integrating with Existing Systems
The ability to integrate seamlessly with your existing systems is another strong point of our CRM for Automotive. Whether you're using particular software for inventory management, eCommerce, or customer service, our CRM can be easily integrated to offer a unified business management solution. This seamless integration ensures that data flows effortlessly between systems, providing a cohesive, comprehensive view of your operations.
Why Automotive Integrations Is the Right Choice
Choosing the right CRM for your automotive dealership is a critical decision with long-term implications. With its feature-rich capabilities, user-friendly interface, robust security measures, and exceptional scalability, Automotive Integrations' CRM for Automotive is the obvious choice for dealerships seeking to gain a competitive edge.
As you absorb the wealth of information we've presented, we highly recommend exploring the various resources available on our website. From whitepapers and ebooks to video tutorials and webinars, we provide numerous free resources to deepen your understanding of CRM systems and their impact on automotive dealerships.