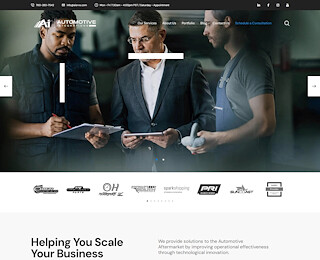 Top 10 Benefits of a Custom Car Website
In the ever-competitive automotive industry, having a digital presence isn't a luxury–it's a necessity. But not all digital presences are created equal. That's why at Automotive Integrations, we specialize in giving you a leg up over your competitors. We're not just about designing websites; we're about engineering experiences. Whether you need an eCommerce platform, inventory management systems, or specialized automotive software, we have got you covered. One of our marquee services is creating custom car websites for auto dealerships. These aren't merely online showrooms but are fully integrated platforms designed to revolutionize how you connect with your audience and, ultimately, how you sell cars.
Setting You Apart from the Competition
In a saturated market where multiple dealerships often vie for customer attention, standing out is imperative. A custom car website offers you that edge. Unlike template-based solutions that make every dealership look identical, a customized website allows you to showcase your brand's unique personality and values. This level of personalization not only attracts more visitors but also keeps them engaged longer, thus increasing the chances of conversion.
Enhanced User Experience
A custom car website enables you to provide an exceptional user experience, which is a critical factor in customer satisfaction and retention. With intuitive navigation, faster load times, and user-friendly design elements, visitors can seamlessly browse through your inventory, read about financing options, and even initiate a purchase. Such a well-structured online environment significantly enhances the likelihood of a customer completing a purchase, thereby boosting your sales.
Real-Time Inventory Updates
Another significant advantage of having a custom car website is the ability to integrate real-time inventory management. Instead of manual updates that are time-consuming and prone to errors, an integrated system automatically displays your current inventory with all the relevant details. This ensures that customers always have access to the most current information, making their shopping experience more enjoyable and efficient.
Enhanced SEO Capabilities
With an ever-increasing number of car buyers initiating their shopping journey online, appearing at the top of search results is crucial. Custom car websites, built with SEO best practices in mind, significantly improve your search engine rankings. From optimized meta descriptions to keyword-rich content and fast load times, every element of your custom website contributes to enhanced visibility, attracting more organic traffic, and subsequently, more sales.
The Virtual Customization Experience
In today's digital age, customers crave personalized experiences, and a custom car website can provide exactly that through virtual customization features. Prospective buyers can select colors, interiors, accessories, and more, virtually creating their dream car from the comfort of their home. This interactive engagement not only keeps them on your website longer but also brings them one step closer to making a purchase decision.
Streamlined Sales Funnel
A custom car website allows you to build a streamlined and efficient sales funnel, guiding potential customers from initial interest to final purchase. With advanced analytics tools, you can track user behavior, identify sticking points, and make data-driven adjustments. This enables you to nurture leads more effectively, guiding them through the decision-making process and increasing the likelihood of a successful sale.
Rich Multimedia Features
The ability to incorporate high-quality multimedia features is another reason why a custom car website is indispensable. From virtual tours and 360-degree vehicle views to video testimonials and interactive features, the options are nearly limitless. These rich media elements make your website more engaging, offer detailed insights into the vehicles you're selling, and help build trust with potential customers, making them more likely to buy from you.
Flexible Payment Options
Today's consumers expect convenience, especially when it comes to payment options. A custom car website can integrate various payment gateways, providing a range of options for customers to choose from. Whether it's credit cards, digital wallets, or financing options, offering multiple payment methods not only simplifies the purchasing process but also enhances customer satisfaction, both of which contribute to increased sales.
Security and Reliability
Customer data security is paramount, especially when transactions are involved. Custom car websites come with robust security measures, including high-level encryption and secure data protocols, ensuring that your customers' information is well-protected. Moreover, with dedicated support and maintenance services, you can count on your website being reliable, further boosting consumer trust and sales.
Integration with Other Tools and Platforms
Last but certainly not least, a custom car website allows for seamless integration with your existing CRM systems, marketing tools, and social media platforms. This ensures a unified and streamlined operation, improving data flow and communications across different departments in your dealership. The benefits of this are multi-fold, including more targeted marketing, better customer service, and ultimately, increased sales.
We've covered a lot of ground, but the learning shouldn't stop here. Automotive Integrations offers a plethora of free resources designed to enhance your understanding and effective utilization of custom car websites. From in-depth guides to informative webinars, these resources are available to you at no cost.