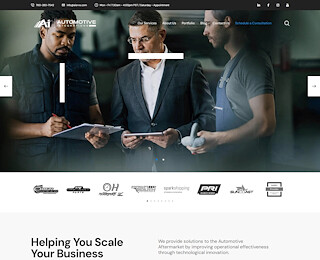 Introduction to Automotive Integrations
In today's hyper-competitive market, making the right choices in technological innovation and operational efficiency can mean the difference between a thriving business and a stagnant one. Welcome to Automotive Integrations, a beacon in the automotive aftermarket industry, where we specialize in improving operational effectiveness and quality customer service through technological innovation. Our offerings range from product distribution, data services, SEO, marketing, systems integration, client engagement, development, project management, to E-commerce implementations.
As a Certified HubSpot Provider, we're primed to support your endeavors in marketing, sales, service, and operations. The key tenet of our philosophy is simple: empower our clients with the technology and strategies they need to succeed. Whether you are looking to scale your business, expand service offerings, or require a comprehensive tech-stack recommendation, our experts are committed to your success. At the end of this article, you will find encouragement to explore the myriad of free resources on our website and get in touch with our specialists for a free 30-minute consultation. But first, let's delve into how Ecommerce for Auto Parts can revolutionize your business.
The Power of Ecommerce for Auto Parts
In the age of the internet, Ecommerce for Auto Parts is no longer a luxury; it's a necessity. Integrating e-commerce into your business model opens up a multitude of opportunities, from reaching global audiences to streamlining operations. Being experts in this field, we can help you set up a robust online store that aligns with your business goals. Our data services ensure that your product listings are accurate and optimized for search engines, making it easier for potential customers to find you online.
Improved Inventory Management
One of the primary advantages of adopting Ecommerce for Auto Parts is the opportunity for improved inventory management. By leveraging our expertise in systems integration, we can help you sync your physical inventory with your online store. This ensures real-time updates, minimizes errors, and allows you to make data-driven decisions, thereby reducing overhead costs and improving customer satisfaction.
Tailoring the Customer Experience
The user experience on your e-commerce platform plays a critical role in customer conversion and retention. We implement client engagement strategies and tools that allow you to offer personalized experiences, track user behavior, and implement A/B tests. Understanding your customers' behavior and preferences enables you to fine-tune your website and marketing strategies, enhancing not just user engagement but also sales.
SEO and Marketing for Ecommerce
For your online auto parts store to succeed, visibility is key. This is where our SEO and marketing services come into play. Specializing in automotive SEO, we ensure that your store ranks higher in search engine results. We also help in crafting digital marketing strategies that include pay-per-click advertising, social media marketing, and content marketing to drive targeted traffic to your online store.
The Omnichannel Advantage
Ecommerce for Auto Parts doesn't mean abandoning your brick-and-mortar stores. It's about creating an omnichannel retail experience where your customers can seamlessly transition between online and offline channels. We can integrate systems so that your online and offline inventories are synced, provide in-store pickup options for online orders, and even integrate customer loyalty programs across platforms.
Ensuring Security and Compliance
Safety is paramount in the online world. We provide solutions that not only ensure the security of transactions on your website but also make sure you are in compliance with laws and regulations concerning online sales and data protection. This builds customer trust and safeguards you from potential legal hurdles.
Transitioning and Expansion Support
If you are a traditional brick-and-mortar business looking to expand into e-commerce, or you are considering adding new services, we offer the transitional support you need. From selecting the best e-commerce platform to managing the logistical challenges, our team is here to guide you every step of the way.
Cost-effective Tools for New Businesses
Newer businesses often struggle with the cost of setting up an e-commerce store. We provide a range of cost-effective tools and programs designed to make the transition easier and less financially taxing. This allows you to compete with larger players in the market from the get-go, setting you on a path of rapid growth.
Data Analytics for Decision-Making
One of the most potent advantages of Ecommerce for Auto Parts is the abundance of data it generates. We can help you set up analytics tools that track everything from customer behavior to sales trends, providing you with actionable insights that inform your business decisions.
CRM and Ecommerce for Auto Parts
Your relationship with your customers doesn't end with a sale. Our CRM solutions help you maintain an ongoing relationship with your customers by providing post-purchase support, asking for reviews, and sending targeted promotions. This encourages repeat business and customer loyalty, essential components of long-term success.
Explore Our Free Resources
We hope that this comprehensive guide has demonstrated our expertise and commitment to your success in implementing Ecommerce for Auto Parts. We invite you to explore the wealth of free resources available on our website to further educate yourself and make informed decisions.
Integrating Ecommerce for Auto Parts into your business strategy provides a plethora of opportunities for growth, efficiency, and customer engagement. At Automotive Integrations, our tailor-made solutions and expert guidance equip you to not only meet but exceed your business objectives. We believe in a consultative approach and would love to learn more about the unique challenges and opportunities your business faces. Therefore, we encourage you to reach out for a free 30-minute consultation with our experts. Your success in the automotive aftermarket industry is our ultimate aim, and we're just a phone call or a message away from helping you achieve it. Let's connect and explore the endless possibilities.