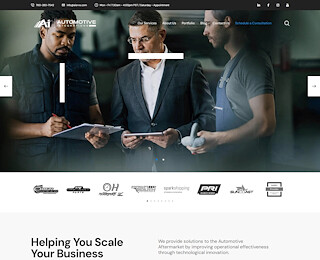 Choosing an Expert For Your ERP Installation
When it comes to managing a complex and ever-changing business landscape in the automotive aftermarket, one can never underestimate the importance of a robust, scalable, and user-friendly Enterprise Resource Planning (ERP) system. At Automotive Integrations, we specialize in providing comprehensive ERP Installation services designed to supercharge your operational effectiveness, quality customer service, and technological innovation.
Backed by over 40 years of industry experience, we're not just vendors; we're your strategic partners committed to elevating your business through intelligent technology solutions. We don't just implement software; we offer end-to-end solutions that include everything from consultancy and customization to post-installation support and training.
Why ERP Installation is Non-Negotiable in Today's Market
The automotive aftermarket is a bustling, high-stakes arena where operational efficiency and real-time data analysis are critical. A well-executed ERP Installation serves as the backbone of your business, enabling seamless data flow, inventory management, financial tracking, customer relations, and much more. Considering the intricacies of auto parts management, supplier collaboration, and consumer behavior, a customized ERP solution is not just an operational enhancement; it's a strategic necessity. At Automotive Integrations, we understand this imperative, which is why we offer tailored ERP solutions that align perfectly with your business needs.
Expertise Matters in ERP Installation
Selecting the right partner for your ERP Installation is as crucial as choosing the ERP system itself. With decades of hands-on experience in the automotive aftermarket, our team of experts at Automotive Integrations is uniquely positioned to guide you through this transformative process. Our consultants will perform an in-depth analysis of your existing systems and processes, identify areas for improvement, and implement a solution that's geared towards long-term sustainability and growth. We are more than just technology providers; we are committed partners in your business success.
Personalized ERP Solutions for Your Unique Needs
The one-size-fits-all approach doesn't work when it comes to ERP Installation. Businesses in the automotive aftermarket come with unique challenges, workflows, and customer dynamics. This is where our personalized approach sets us apart. At Automotive Integrations, we believe in crafting ERP solutions that are as unique as your business. From inception to execution, our team is committed to understanding your specific requirements, ensuring the end result is a system that aligns seamlessly with your business goals.
Implementation and Beyond
The relationship with Automotive Integrations doesn't end after the ERP Installation. We offer ongoing support, including system audits, training, and updates, to make sure that your ERP system continually adapts to your business needs and market changes. This approach is designed to provide you with peace of mind, knowing that you have a partner that is invested in your ongoing success, well after the initial installation is complete.
Efficiency is No Longer Optional
In today's competitive marketplace, efficiency is not just a buzzword; it's a business requirement. An ERP system, when properly installed and customized, can bring about radical improvements in your operational efficiency. Whether it's automating routine tasks, enhancing inventory management, or offering real-time data analytics, an ERP solution from Automotive Integrations is designed to make your business leaner and more agile.
Data Security and Compliance
Data breaches and compliance violations can severely damage your brand and bottom line. At Automotive Integrations, we take data security seriously. Our ERP Installation services come with robust security protocols to ensure your data remains confidential and secure. Moreover, we ensure that the system is in compliance with all relevant laws and regulations, thus shielding you from potential legal complications.
The Return on Investment
ERP Installation is undoubtedly a significant investment. However, the ROI, in terms of operational efficiency, cost reduction, and enhanced customer satisfaction, is immense. Automotive Integrations has a proven track record of implementing ERP systems that pay for themselves in a relatively short time. Through our metrics-driven approach, we can help you track and measure the impact of the ERP system on your bottom line.
A Word on Free Resources
Beyond our paid services, we strongly encourage potential and existing clients to explore the wealth of free resources available on our website. From insightful articles and how-to guides to informative webinars, we offer a variety of materials designed to help you make an informed decision about your ERP Installation needs. Feel free to take advantage of these resources as you contemplate your next steps.
Get Started With Us
Are you ready to make the leap and revolutionize your business operations through ERP Installation? The experts at Automotive Integrations are here to guide you every step of the way. From selecting the right system to implementing it and providing ongoing support, our comprehensive services are designed to ensure your success. Contact us today for a free 30-minute consultation to discuss your specific business needs. We're more than just a service provider; we're your partner in long-term business success.