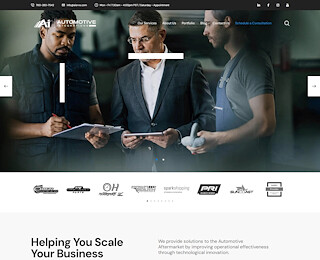 Affordable Overlanding Website Builder
In a world increasingly governed by digital interfaces and online transactions, it's no longer enough for businesses in specialized fields to merely have an online presence. You need an online avatar that does justice to the complexity and uniqueness of your offerings. At Automotive Integrations, this is precisely what we aim to provide with our Overlanding Website Builder. Tailored specifically for the overlanding and off-road adventure industry, our services offer a streamlined, cost-effective, and highly customizable solution for businesses seeking to mark their territory in the digital landscape.
In addition to web design and development, our comprehensive suite of services extends to Search Engine Optimization (SEO), social media integration, and robust customer support, all directed at enabling your business to break new ground–both online and off-road.
What is an Overlanding Website Builder?
The term 'Overlanding Website Builder' may be unfamiliar to some, and it's our task to demystify it. Unlike generic website builders that offer standard templates and features, an Overlanding Website Builder is a specialized tool designed to cater to businesses operating in the overlanding and off-road adventure industry. It comes equipped with functionalities that make it easy to showcase off-road equipment, plan adventure trips, book appointments, and even feature user-generated content such as trip stories and reviews. This specialized approach ensures that the features you get are not just add-ons but are integral to enhancing your business operations and customer interactions.
Who Benefits Most from Our Service?
If you are a business owner dealing in off-road equipment, organizing adventure trips, or even blogging about the overlanding lifestyle, then our Overlanding Website Builder is meant for you. We target niche markets and understand that generic solutions often fall short of capturing the essence of specialized businesses. The level of customization and relevant features we offer ensures that your website will not be just another online brochure but a comprehensive platform that enhances your business and customer engagement.
Why Clients Trust Automotive Integrations
Trust is not built overnight. At Automotive Integrations, we've invested years in honing our skills, understanding industry-specific needs, and most importantly, listening to our clients. Our Overlanding Website Builder is the product of extensive research, client feedback, and technological innovation. We offer 24/7 customer support and consultation services to ensure that you're getting the best out of our services. It's not just about getting your website live; it's about ensuring it continues to serve your business objectives effectively.
Unbeatable Features at Your Disposal
What sets our Overlanding Website Builder apart are the features we offer, fine-tuned to meet the specific needs of the overlanding industry. From high-resolution image galleries to showcase your equipment and trips, to integrated social media feeds and advanced booking forms, we've got you covered. Our tool also offers an intuitive Content Management System (CMS), allowing you to make real-time updates without requiring any coding skills. The integrated analytics tools further help you track user engagement and make data-driven decisions.
How We Save You Money
Many businesses hesitate to upgrade their websites, fearing exorbitant costs. Our business model is structured to offer maximum value at affordable pricing. We do this by offering modular solutions that allow you to choose and pay for only the features you need. Moreover, the ease of use and in-built functionalities reduce the need for hiring additional staff to manage the website, thereby lowering your operational costs.
Our Expertise Speaks Volumes
While there are plenty of generalist web development companies out there, few can boast the industry-specific expertise that we bring to the table. Our team is not just technologically adept but also possesses a deep understanding of the overlanding industry. This unique blend of skills enables us to offer solutions that are both technologically robust and in sync with market trends.
Reputation Built on Client Success
A significant portion of our business comes from referrals and repeat clients, attesting to the satisfaction we deliver. Numerous testimonials and case studies on our website bear witness to the success stories we've helped script. Our reputation is built on the cornerstone of delivering not just a product but a comprehensive solution that translates to business success for our clients.
The Invaluable Addition of SEO and Social Media Integration
Today's digital landscape is incredibly competitive. Having a fantastic website is just part of the equation; ensuring people find it is another challenge altogether. That's why our Overlanding Website Builder comes with built-in SEO features and social media integration. By optimizing your site for search engines and enabling easy sharing of content across social platforms, we increase your site's visibility and reach.
A Commitment to Continuous Improvement
The digital world is always evolving, and so are we. Automotive Integrations is committed to continuously updating our Overlanding Website Builder with new features, security upgrades, and improved user interfaces. Our clients benefit from this perpetual innovation, enjoying a product that is always up-to-date with the latest industry standards and technologies.
We strongly encourage you to explore the vast range of free resources and case studies available on our website to get a better sense of what we offer. You'll find comprehensive guides, how-to articles, and even video tutorials designed to help you make an informed decision. Feel free to reach out to our expert team should you have more specific questions or need more personalized consultation.